PTE Tips and Tricks
1. Backspace in Writing
Many of the aspirants believe that using Backspace in writing will affect the GRAMMAR and SPELLINGS Score which will decrease their Overall PTE Points.
So, they do not use Backspace even when they done a mistake, which leads to poorer spellings and grammar scores. There are no algorithms in PTE that count your backspace in the exam.
Next time you see someone talking about this backspace issue, Tell them to not worry about it and use it as many times as they want.
2. Complex Sentence Formation
One of the Biggest Myths in PTE is that to achieve a high score in Writing, You need to use very complex sentences.
But in reality, the simpler the sentence it is, the more score you will get. Difficult and complex sentences require some demanding A.I. and can also mess up with your grammar and spelling.
So, try to use simple and short sentences in PTE and achieve your desired band score easily.
-Use simple Spellings
-Don't create complex sentences
-Only write spellings that you know. Don't write difficult words that you can't spell.
3. Add Extra Words In Write From Dictation (2021 Update)
Many of the students use extra words in Write From Dictations. Words such as ( in, and, of, the, by, and so on). These words are added in dictations to grab points of such words that might be present in the real answer
As a result, they score very low marks in Listening. This was possible before 2019 as there was no algorithm of word count in PTE (WFD). But, after the year 2020, PTE Academic introduced a new big update.
This Update includes that EVERY SINGLE word needs to be in the CORRECT order as per the answer. There should be no addition of extra words, else 0.50 marks will be deducted from each word added or mistake.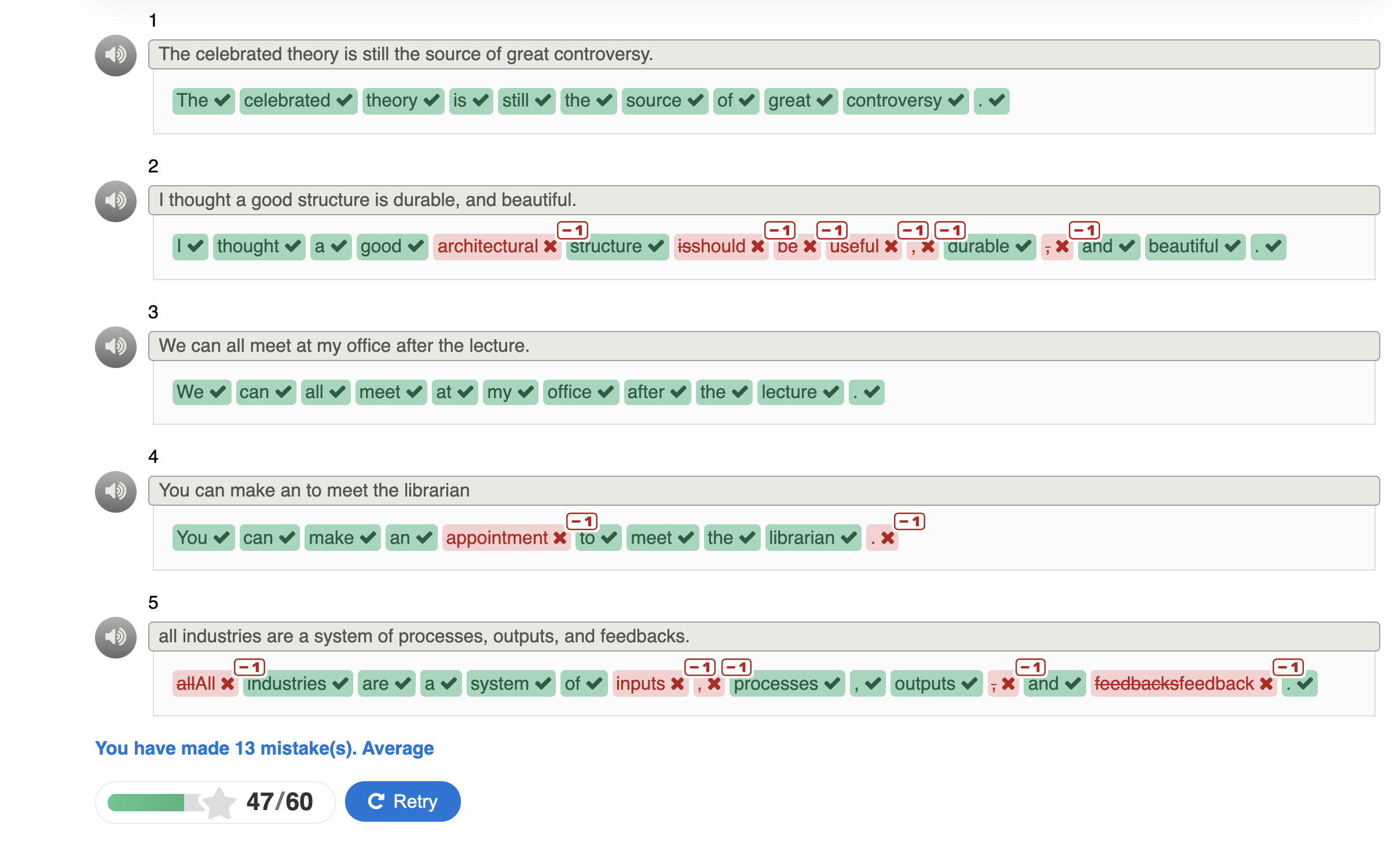 -Use full stop and comma as in answer
-Practice 30x Dictations a day
-Don't add extra words ( and as also but )
-Don't use both plural and singular words in dictation ( we are attending Math Maths lecture)
4. Speak for full 40 Seconds in Speaking
Still, Many Teachers and students believe that speaking for full 40 seconds will help them achieve very high scores in Speaking compared to those who speak only for 25 Seconds.
This is not TRUE, Speaking for 40 seconds constantly is an arduous task. The more you speak, the more pauses and hesitations there will be.
If you focus on content and speak proper keywords then you can finish this task in less than 20 seconds also. Speaking for 20 to 25 seconds while maintaining your fluency with proper content is the key to score 90 in PTE.
-Speak Proper Content
-Try to cover your content in 20 to 25 seconds
-Speak Fluently
-Don't rely only on Template
-Don't keep speaking until 40 Seconds are Over.
5. Only Cram Real Exam Questions / Materials
Some aspirants say that they should not practice questions in PTE, rather they should cram all the real exam questions.
Cramming in PTE is so common, Cramming does help students with various types of questions. That is why many students cram every single question available on the internet. From Read Aloud to Repeat Sentence to Write From Dictation. This does not help them in the long run. Learning the proper strategies, tactics, and right approach to the question will only help them achieve 9.0 Bands in PTE.
Focus on questions having high weightage such as Read Aloud, Repeat Sentence, and Write From Dictations. DON'T Cram all of them. Learn proper strategies for them.
-Use Proper Strategy
-Go through the Exam Questions file properly
-Cram only Write From Dictations as they have 100% Repeat Rate
-Don't cram Read Aloud and Repeat Sentence
-Don't focus on Questions with less weightage. (MCMA or HIC)
6. Speak Louder and Faster to make sure it's RECORDED in the exam. (Speaking)
Speaking at a faster pace and speaking it louder will help you achieve 90 points in PTE. Well, it's not completely true.
Speaking louder in the PTE exam is not only disrespectful to others but also leads to many other problems. PTE Test Centers offer Noise cancellation Headsets that will take care of all the noise present in your exam room. These Headsets also have the potential to eliminate and separate the background noise.
Speak in your natural tone as PTE Algorithms will automatically increase the volume of your recording before checking them. If you have a very soft voice, Only then, you need to speak LOUDER !!
-Speak at a Proper Pace and Rhythm
-Make sure to Test the Microphone before starting the test.
-Speak LOUDER If you have a Soft voice
-Don't Speak Faster, It might give you less pronunciation score
-Don't speak LOUD unnecessarily, It might decrease your scores
7. Carefully choosing the Best Test Center to achieve a High Band Score
Results vary from test center to test center. Some give good results while others don't. This is NOT TRUE.
There are many aspects in a test center from headphones to computer hardware to properly working Internet servers. All these things are checked and tested several times before they can be used in exams.
So, No Matter where you give your exam. It has to pass through that checking criteria. Your exam will be checked by the same algorithm. whether you give exam in London, Delhi, or New York, it will be checked by the same set of codes
Pick a Test Center that is close to your location
Pearson Professional Test Centers (PPC) are the Best Test Centers
Report issues that occurred in your exam.
Don't be Skeptical about Test Centers
Don't Take an exam very far from your place.