Business
What do you know about ISO Certifications?
ISO 11612
Fabrics that give this certification can protect the wearer against fire and heat if they are wearing the fabric. In addition, this standard applies only to the fabrics that are made to protect people against fire. However, there exists an exception for these fabrics like hoods, other head coverings, hand coverings, and other similar garments that do not fall under ISO 11612 certificate. While wearing fabrics that don't fall under this certification, it is better to wear extra protection in those areas. Furthermore, fabrics with this certification are best for industrial workers, electrical workers, and other similar occupations.
The standard examines the protection of clothing, their fabric. And related accessories when heat and flames come in contact with the clothing.  In addition, 11612 fireproof fabric under this standard examines the resistance against weather, shrinkage after washing, and a lifetime of the fabric. The examination occurs inside laboratories in a controllable environment. The aim of this Universal Standard is to embrace the minutest requirement standards for garments that can be worn for a wide variability of end-uses to defend against high temperatures and fires.
There are three performance standards for many of the hazards under EN ISO 11612:
1st: Indication of a minute risk
2nd: Indication of an intermediate risk
3rd: Indication of a high risk
ISO 11611
This specific standard is mean to provide protection requirements. And analysis methods for safety fabrics such as aprons, hoods, gaiters, and sleeves. These fabrics protect the wearer's head, arms, and feet from welding and allied processes when at risk. Hand protection garments do not fall under this standard as there are other standards that cover that section.
Workers working in hazardous environments must have protection against sparks, fire, and the possibility of electrical shock resulting from naked wires with electrical conductors by the approval of EN ISO 11611. The workwear must cover the entire body to achieve optimum protection. To do this a jackets and matching trousers are efficient. These are made from FR fabrics to provide the best protection against fire and heat. When using welding techniques that create a lot of sparks. We recommend extra protection for the arms, hands, and front of the clothing. Only a minimum number of pockets and other functions are included in safety apparel standards in compliance with ISO 11611 certificate to avoid sparks in workwear, thus preventing sparks from coming in contact with the skin.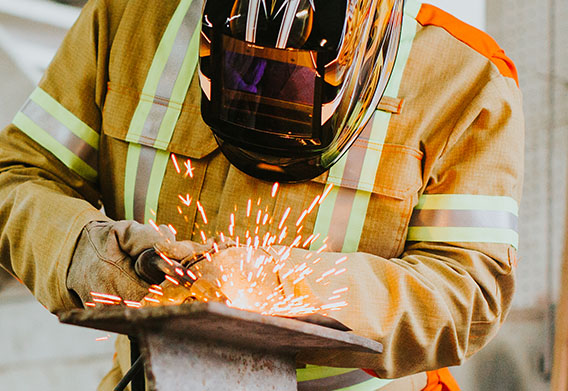 This standard requires the calculation of a garment's ability to defend against fire and heat. The garment can be put into two classes, class 1 or class 2 this provides protection against strategies and conditions that are less dangerous. Class 1 or class 2 depends on the fireproof fabrics FR resistance. Apart from specifying the flame and heat tests, the specification includes other design specifications, such as the need to cover closures with compatible fabric flaps.
Why are these standards important?
When talking about FR Fabrics, it is important to remember that these fabrics are the boundary between life and death for a large number of people. Without these fabrics, the life of a worker can be distressing. In order to keep these fabrics up to mark, we must keep a check and balance with ISO 11612 certificate and other standards to know that the fabric will work when the fabric is in need. The standard allows us to check different components and different equipment. These norms are make so that only the best fabric is sold to customers.
Limitations of Fireproof Fabrics
These certificates have stringent clothing rules, and under these requirements, no fault is ignore during testing. As it helps to discover their hidden weaknesses and the limits of these fireproof fabrics, each test has its own intent for testing. In deciding their consistency and grades, the limit that these fabrics can endure. Similarly, the testing varies in the ISO 11612 standard. But the purpose remains the same which is simply to measure the fabric to the maximum.
The fabric is not able to withstand the tests according to the minimum criteria of EN ISO 11611. Rejection of fabrics occurs when there is a failure in testing. Premium class fabrics surpass the limits of regular fabrics as they have more. And better protection, but in comparison to normal fabrics, these fabrics can be more costly.
Furthermore, under intense conditions such as molten metal splashes, fire exposure, heat from the electric arc in welding, and electric shock, these ISO 11612 tests the fabric so all possible failure points are insight. It can withstand fire as well as sweat, soil, and other contaminants if the FR fabric is of good quality. Fireproof fabrics are an essential component in every industry because they certify their hazards to reduce the risk of life. Protecting human life as much as possible is important because it is worth more than anything in this world and ISO 11611 helps to carry out this mission. A fabric with this credential is durable and trustworthy.