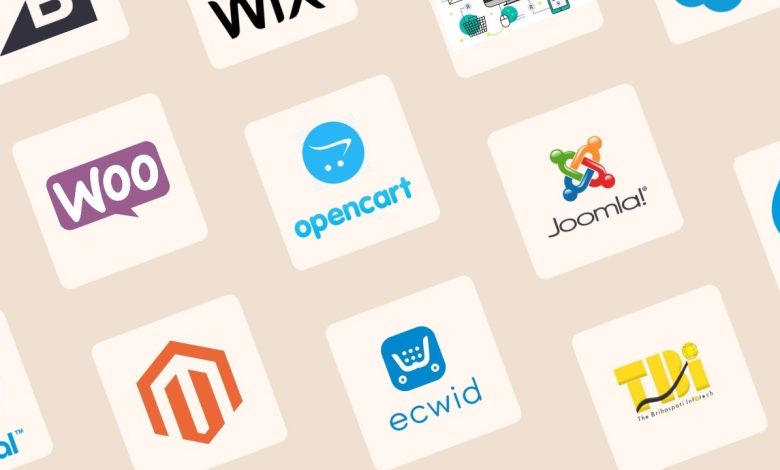 If you want to stay competitive in today's market, you need to have an online presence. In fact, this holds true for both small and medium-sized businesses. However, a successful online launch necessitates a well-thought-out strategy and a wide range of commercial considerations. You might, for example, team up with an eCommerce development company that will oversee the development of your eCommerce solution and help you select the best platform for your purposes.
And to start, you need to determine whether open-source eCommerce development solutions or another sort of platform is required. Further, you will require a website that is hosted on an eCommerce platform and acts as a hub for you and your consumers.
Which are the best eCommerce platforms for 2022?
When it comes to selecting the ideal eCommerce platform for your online store, you get free and premium options from an eCommerce development company. Do you know that SaaS-based eCommerce platforms will be substantially more expensive? They handle your site hosting and provide support and updates. On the other hand, open Source solutions are far less expensive than SaaS-based approaches. 
So, we have discussed the free eCommerce store to create your website on an open-source platform.
WooCommerce 
WooCommerce is a well-known WordPress eCommerce plugin. It is known as one of the top open-source eCommerce solutions. The plugin is free, and it includes significant eCommerce features such as a shopping cart, payment gateway, order management dashboard, products page, and homepage. However, in order to make your website more engaging and profitable, you will frequently need to invest money in additional extensions.
The best part about WooCommerce is that it is backed by a well-known brand, which means it has an extensive library of extensions and themes. WooCommerce has over 4900 plugins (both free and premium) that cover every area of eCommerce and can help you build custom eCommerce website development.
Magento
It is the third most popular eCommerce website, after Shopify and WooCommerce, with over 250,000 active users. In fact, Magento is a well-known Adobe-owned e-commerce platform with a user-friendly design that will appeal to non-technical customers. It is popular among retailers because of its low cost and openness. Magento provides your company with nearly endless customizability and scalability choices.
The essential features of Magento include website creation, product catalog management, and marketing capabilities. If you want to use the Magento open-source, you'll need to get a domain name and an SSL certificate. Also, you'll need to purchase hosting, a theme, and plugins to get your store up and running.
Magento Marketplace has a wide range of themes and extensions for store owners to select.

For scalability and additional customization, the source code is robust.

Magento's source code is already mobile-friendly.

Magento provides fundamental SEO tools, along with extensions, and customizability, to help you achieve SEO success.
OpenCart 
OpenCart is an open-source platform built on PHP. With support for many types of extensions, app installation is quick. You can also use a shopping cart system and manage orders with ease. It consists of several features that can help you start your online store. Each product in your store, for example, may have its own theme and style. You can get an eCommerce development company to make substantial changes to your online store or to set up it.
Moreover, the merchant gets a wide option of 40 different languages. Also, the small and medium-sized businesses find OpenCart best for their business due to its local and worldwide optimization. Similarly, because OpenCart requires a wide range of add-ons to function, your eCommerce store will be distinct from others on the internet.
It is both free and simple to use. Even those with no prior coding experience can launch a new eCommerce site.

An active community forum where members may exchange tips and have their issues resolved.

A large number of themes and extensions with a wide range of options for users to enhance the operation of their site.
Ecwid 
Ecwid is a web-based application widget that allows you to integrate into any CMS rather than a whole eCommerce platform. It may integrate with WordPress, Joomla, Wix, and other platforms to create an eCommerce site. It is a good eCommerce package for small enterprises with minimal resources and technical expertise.
Ecwid can convert a content management system (CMS) into an eCommerce store in a few seconds.

Even complete beginners will find it simple to set up. 

However, Ecwid is similar to Shopify because of its open-source nature, which allows for more customization.
Joomla
Joomla is an open-source CMS that is free to download and use. On Joomla, you may develop and personalize your e-commerce. It has free plugins and themes. You can purchase premium plugins and layouts for your website if you're not satisfied with the free options. Because Joomla is similar to WordPress, you'll need a variety of e-commerce plugins to complete your website. j2Store, HikaShop, MijoShop, and other popular plugins are just a few examples. J2store is a free Joomla e-commerce extension that does not require a lengthy registration process.
Simple to use

It's a no-cost platform.

A large number of extensions are available.

Excellent client service
Closing thoughts
Hence, the above list of the top five open-source platforms and their features can help you shortlist the best platform for your eCommerce store. Even you can communicate with the eCommerce development company to get your online store to develop.